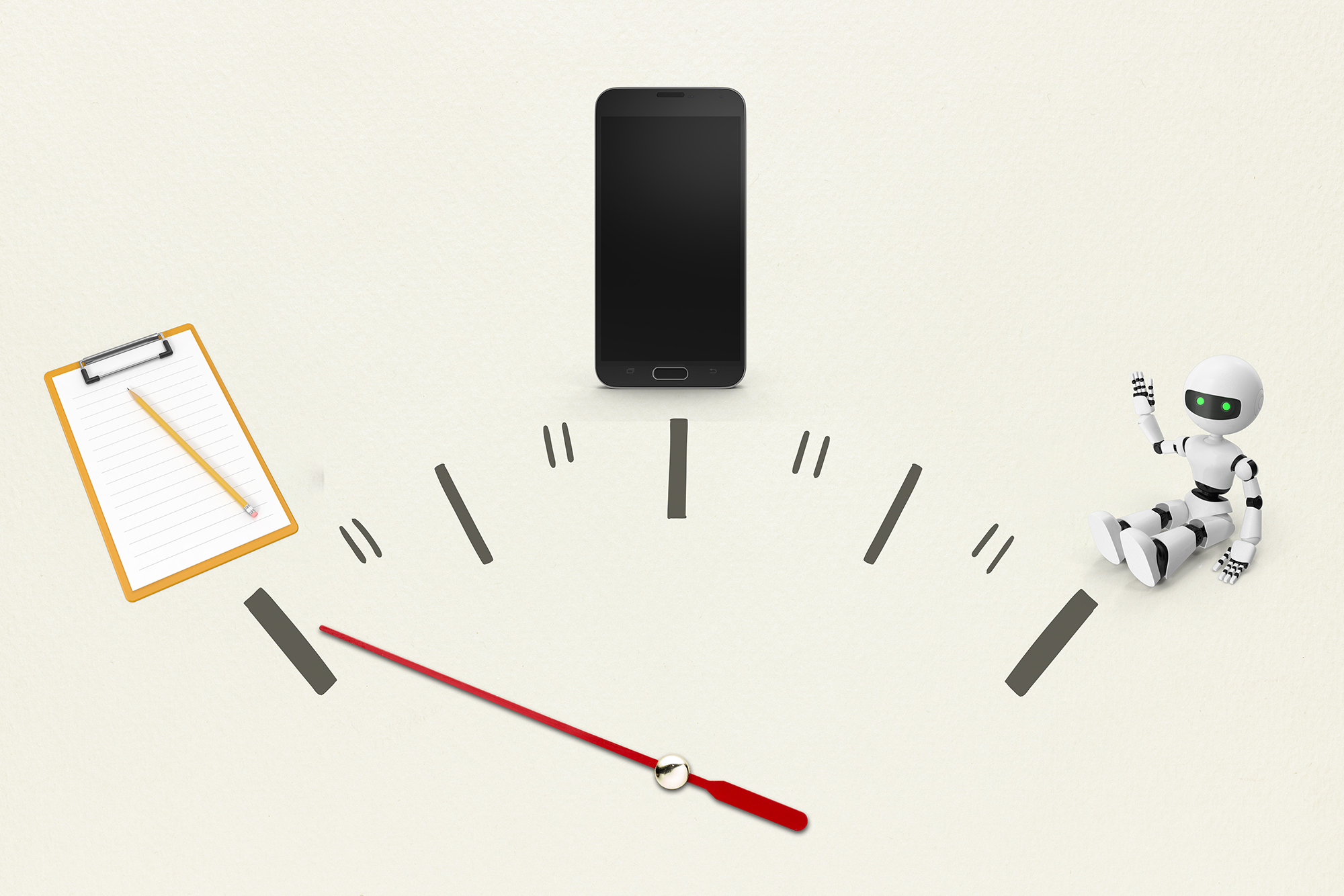 What is your level of digital maturity?
If you follow business news at all, you have surely read many times about digital transformation and its importance for the development of a company, regardless of the sector. You have probably read examples of software implementation (like ProgressionLIVE!) or the addition of more efficient machines, or the development now possible of new markets hitherto unknown.

All of this is beautiful and inspiring! But concretely, how can we initiate a transformation process in an SME with means (but especially time) already limited by daily tasks?

The first step is to paint a candid portrait of the current position. This is called the digital maturity level. Through the different positions, you will be able to establish your current digital maturity. You will then see actions to take to move to the next step. You will then have a clear diagram of your service business.

A regularly observed cause of failure (or at least delay) is choosing a system and taking action based solely on that system, without considering the starting point. What is presented here is an approach to help you make the transition well, regardless of the system chosen. Going from level 1 to level 5 suddenly can be reckless, even daredevil, for the company as well as for its employees. Passing one level at a time (even if there are only a few weeks between each step) increases the chances of a successful digital transformation.

Here are the common elements for each of the steps, and the actions to take to move on to the next step,



1 - all paper
We all started somewhere. A notebook for notes, a pad for work orders and another for invoices… which accumulate in the shoebox! When you start a business out of passion for your job, the management aspect is neglected more often than you would like. But the business is rolling and that's what matters. That said, to have some growth, you have to start structuring everything.

Actions:
Make a list of all the documents and forms used, even those that are used only occasionally.
Ask each employee what is slowing them down and how their work management could be improved (eg not having to stop by the office every morning to pick up the day's work orders). Write it down and keep it all in one place.
Centralize in a single place all the information on the customers, on the equipment (and where / which truck it is) as well as an inventory.


Now that the heart of the business is documented and accessible in one place, we can start digitizing.



2 - Excel workbook - Office software

Who has never had to generate an invoice in a word processor! At least we can save everything in the same folder on the hard disk (or USB key). It is then easy to copy the total in an Excel file to know the income of the month.

Technically, everything here is "digital"... But not very efficient. This is the time to put some order and identify what is duplicated or tripled.

Actions:
Digitize and combine in single folders and documents what goes to the same place (for example different Excel tabs to centralize the names and addresses of each customer and each supplier).
Standardize document names and their classifications so that all similar information is easy to find and group together.

For example: BT1026-2022-11-25-claudeTremblay-eauChaude.doc (can be found with a search by year, by date, by client and by work).

Have message templates to copy into text messages and emails to send, to save time and also avoid confusion.


When talking about a digital transformation project, it is often the longest stage... but also the most frustrating when you realize after 2 months that a crucial element is missing for some seasonal customers. Doing this job well from the start saves time for the future.




3- Central Database - Task Management Application

This is where the serious stuff (digitally speaking) begins! With all forms, customers and suppliers centralized and digitized, the implementation of a management system becomes much easier. For a long time, with systems like MS Access, everything was tailor-made to the needs of the moment. Over time, the system became increasingly cumbersome and when its manager left, the whole company suffered for months, if not longer.

So online operations management systems like Progression, the expertise acquired over the years with similar companies is available to you overnight. But there is quand even homework to do so that the transition goes well.

Actions:
Involve every employee from the start and in each of the different stages (remember the questions at level 1? Use them to select the best system for the whole company).
Take the time to review each process and each type of task. Group what can be group, even if it requires some adjustments. The fewer processes there are overall, the easier and faster the transition.
Ask questions and properly train key people. Not just what you're using today, but what you're planning to use in the future. These "power users" will thus have the potential to influence other employees with their tips and knowledge, but in addition, they will be equipped to detect the right moment to take the next step.


Congratulation! You now have… the equivalent of your paper forms, but in digital format. Disappointed? Don't be. Rather, it is the foundation of your business that is now in place. And the stronger the foundation, the more diverse the options are now.



4- Digital management of calls and service contracts

Even the best airplane in the world can crash if its pilots don't know all the information needed to get to their destination. In the case of a service company, the destination is each task completed by your teams.

With the right tools, properly documenting what is being done is now quick and easy. Even if it only takes 2 minutes, you have to take the time to do it right, every time.

Actions:
Connect everything possible together. One of the basic principles in digital transformation is to enter the same information only once. Accounting system, inventory, particularity of equipment at a customer (easy to keep with a photo). The more your different systems communicate with each other, the more efficiency you will gain.
During a call, take the time to ask the customer for all the information, even what is not immediately essential. As this data remains in the system and comes out with each new request, you will save time from the second call, just like your customer.
Show that you are on the cutting edge. SMS notifications, invoice sending by email, paperless environment, etc. More and more customers will judge you not only on the quality of the work carried out, but on the overall customer experience and the values you stand for. Your reputation (and the chances of regular contracts) will be even greater!


You are now an efficient and digitally-focused company! Most service companies will stop here and progress efficiently year after year. But it is possible to stand out and go even further.
5- Proactive use of customer data

A database is an asset. But even a new, fully equipped truck sitting in the parking lot is of no use and loses value...

It is the same with the data in your management system. Let's see how to use them and get value out of them for your business.

Actions:
Offer up-front service contracts and recurrences. If the client is happy with the work, he will be inclined to sign now for the next time.
Schedule calls and reminders at the appropriate time. For example, do you know that a hot water tank has a useful life of 10 years? Why not note now that it will have to be changed in 2033 and call the customer at the end of 2032? You have unique competitive data (date of work, what has been done, preventive estimate of the next inspection date).

Use this advantage to create value; the majority of customers will be satisfied with it.
Here is the example of a single tank. Imagine the same scenario with an owner of 200 homes...

Analyze the profitability of each project. You have the billing data, as well as the time spent, the parts used and the dead time (travel). Further analysis of this data will reveal where you are performing and where there is work. More and more companies are now doing these analyzes on a regular basis.


This is what a transformation project can look like for a company starting from paper management. As you can see, it's quite a bit of work, but there's nothing complicated or inaccessible. On the other hand, rigor and the establishment of a work plan are required.