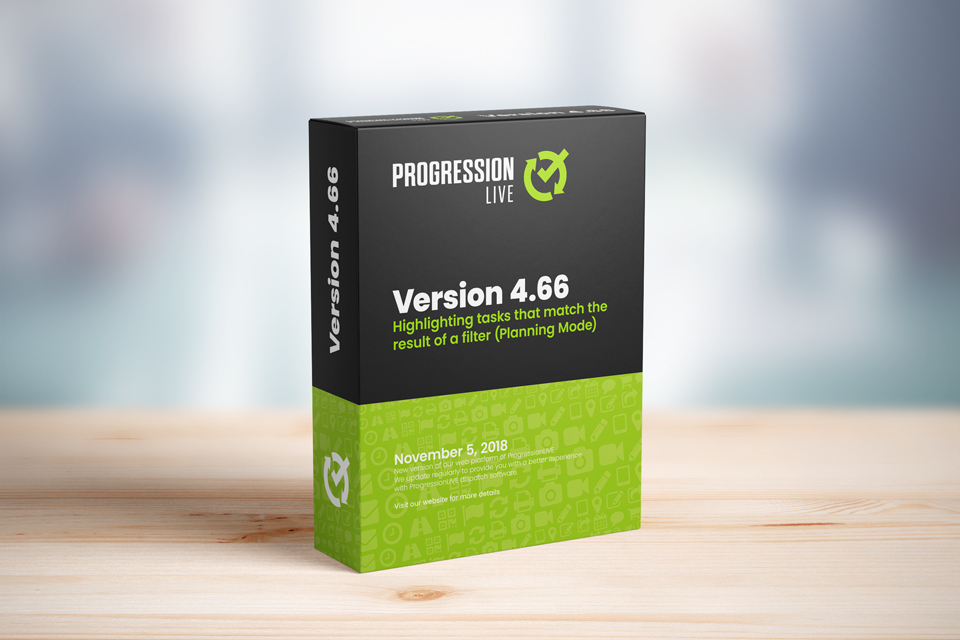 Web update 4.66 of our software
New version of our web platform of ProgressionLIVE !
This Web Update 4.66 is mainly about highlighting tasks that match the result of a filter in Planning mode. We update regularly to provide you with a better experience with ProgressionLIVE dispatch software.
Web Update 4.66
This update will be deployed starting November 5th, 2018.
Highlighting tasks that match the result of a filter (Planning Mode)
First, we added two buttons to Planning mode. The first "Filter Tasks" allows you to filter scheduled tasks according to several criteria. The second "Highlight mode" is used to hide or display (with opacity) jobs that do not match the applied filter.

For example, let's apply a filter where only "Service Call" type jobs should be displayed. For example, by clicking Filter Tasks , and then New, this window appears.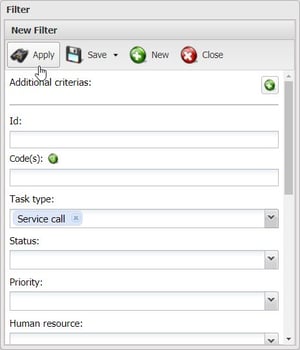 Then, when you click Apply, the non-service calls are removed from Planning mode.

However, it is possible to make them appear on the screen with the Highlight mode button. The tasks in question will therefore be displayed with reduced opacity, which allows efficient planning.

Changing the method for searching by code (List Mode)
In order to improve search performance by code in list mode, the content of the Code(s) field in a filter will now be interpreted differently. Indeed, the result of a search by code in this mode will only display one task at a time (if no comma is inserted in the field). Thus, if the field contains only numbers, the search will be done only on the ID of the task. However, if the field contains letters, the search will be done on the exact code of the task.
For example, if I search for the task AS000102 here are the scenarios:
The AS000102 task will be displayed


The AS000102 task will NOT be displayed


Bug fixes
We have fixed some bugs.
---
Stay informed of future web updates by subscribing to our newsletter.